AGE 26
HOME CITY GOLD COAST
OCCUPATION DANCER/FITNESS STUDIO OWNER
DANCE STYLE ACROBATIC CONTEMPORARY JAZZ
If life gives you lemons, make lemonade – that has got to be Anthony Ikin's motto. The 26-year-old trained for years as a gymnast and was not only a five-time Australian Elite.
Aerobics Champion from 1998 to 2002, but also picked up a Bronze medal in Las Vegas at the World Aerobic Championships in 1999. Anthony had his heart set on competing at the Olympic Games, only to have his dream shattered when he was told he was too tall to be an elite gymnast (he's 188cm!).
But instead of throwing in the towel, Anthony discovered a new passion – dance. His formal dance training started at the relatively late age of 17, but his background in gymnastics and aerobics saw quick success, winning roles in the 2005 musical production Grease: The Arena Spectacular, and the world famous cabaret Moulin Rouge in Paris. He also performed at the opening ceremony of the Sydney 2000 Olympic Games.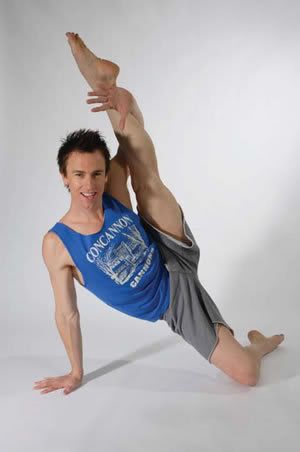 Anthony's style is Funky Jazz, in which he has formal training, as well as a little in Contemporary. And when you see him doin' his thing, it's obvious how handy all that gymnastic training was in producing a trick-filled, eye-catching routine.
Brother of famous rugby league player Ben Ikin, Anthony owns a dance and fitness studio in his hometown of the Gold Coast, Ikin Dance, and loves working helping with kids' fitness.
Key quote: "I can't wait to learn all the different styles of dance – I love a challenge!"
Looking for the Voting Numbers? They can be found here.