AGE 20
HOME CITY ADELAIDE
OCCUPATION DANCER/WAITRESS
DANCE STYLE JAZZ
Our beautiful dancer with the wholesome girl-nextdoor looks is Adelaide-based Laura, 20. Laura grew up in her mother's dance school – the Fascinating Rhythm School of Dance – and started learning the basics when she was just three years old. The school gave Laura the chance to train extensively in Jazz, Tap and Classical, as well as a couple of years studying Hip-Hop and Funk.
Her first professional dance experience was performing in the opening of the 2000 Olympics for the soccer. She was only 13 years old at the time, and was cast with the Australian Drill Team to perform at the opening ceremony at the Hindmarsh soccer stadium in Adelaide. Here the young Laura first experienced the long hours and gruelling days of rehearsals that helped prep her for the exhaustive audition process for SYTYCD. But her professional experience doesn't stop there! After completing her secondary education at Siena College, she moved to Melbourne to further her dance training at Dance Factory.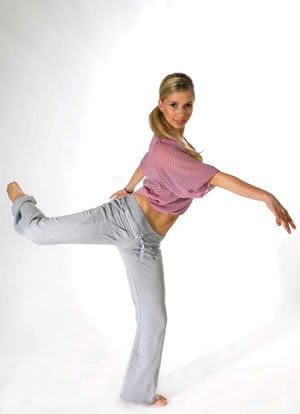 Not long after relocating to the city of good coffee and cosy cafes, she landed a role in a big-budget Bollywood movie, Salaam Namaste. Shooting on location at Rye beach in Melbourne for a week, Laura danced alongside Tania Zaetta, a high profile actress in the Bollywood scene. After the shoot finished and just two weeks after her 18th birthday, Laura was off to Hong Kong for the opening of Hong Kong Disneyland. Here she played Ariel (The Little Mermaid), a role requiring her to fly through the air with the greatest of ease doing aerial tricks in a harness! After returning from Hong Kong, she moved back to Adelaide, and now works part-time at a local café in between continuing to dance and train.
Laura feels most at home performing Jazz, and displays incredible confidence with all artforms. Loving, friendly and dedicated to her craft, the angelic Laura is definitely one to watch on SYTYCD!
Key quote: "Dancing is my life, my heart and my soul. It defines who I am."
Looking for the Voting Numbers? They can be found here.